The Hong Kong government was Tuesday being pressed to investigate claims that plain-clothes Chinese police dragged activists and journalists across the border into China.
Four activists and two Ming Pao journalists from Hong Kong were detained for three hours in China Sunday after a protest rally at an immigration control point on the Hong Kong side of the border.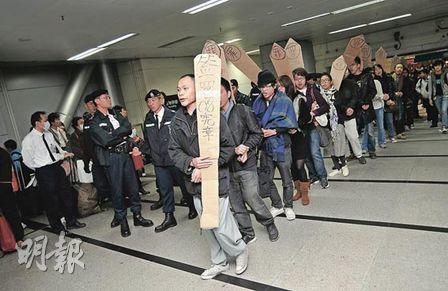 Hong Kong protestors at border customs between Hong Kong and China
The six, who protested the jailing in China on December 25 of prominent dissident Liu Xiaobo, claim they were dragged across the border by plain-clothes Chinese police.
The activists, who said they were on the Hong Kong side of Lo Wu Bridge, were among a group of 21 people protesting about imprisonment of Liu Xiaobo.
Photographs and videos of the incident appear to show Chinese police officers crossing the bridge at the busy Lo Wu border crossing and grabbing activists' banners before dragging the six across the border.
One of the detained activists told Tuesday's South China Morning Post: 'They did not tell us who they were even after they took us to a room. We questioned their identities but they kept refusing to tell us.'
The six said they were held for three hours before being released back into Hong Kong when the border protest was over.
In a statement on Sunday, Ming Pao said Chinese police officers confiscated the reporters' home return permits without explanation.
Hong Kong police have described the situation as 'chaotic' and claim several protestors strayed onto the Chinese side of the border which may have led to their arrests.
Pro-democracy legislators have called on the Hong Kong government to investigate the incident which they say undermines Hong Kong's political autonomy and freedoms of expression.
There was no immediate comment from the Hong Kong government over the incident, the latest in a series of protests staged in Hong Kong over the jailing of Liu which attracted international condemnation.
Hong Kong was annexed by China in 1997 under a 'one country two systems' arrangement. It maintains border controls and has freedoms of expression denied to people in China.