Freedom House January 13, 2010
Freedom House commends Google's decision to contest internet censorship by the Chinese authorities, despite the distinct possibility that this action will result in the closure of its operations in China.
Google is taking this action in the face of what the company described as a "highly sophisticated and targeted attack on [its] corporate infrastructure originating from China." It is believed this attack was aimed at accessing the Gmail accounts of Chinese human rights activists.
"The cyber attacks on Googleˇ¦s operations fit a clear pattern of internet censorship and interference," said Jennifer Windsor, executive director at Freedom House. "They are part of a vast, multilayered system the Chinese Government uses to censor, monitor and manipulate how Chinese citizens use the internet."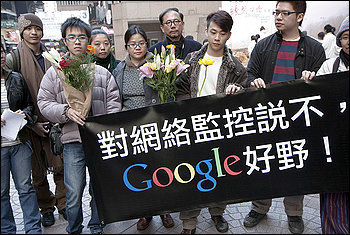 Activists in Hong Kong hold a banner supporting Google's stand on China. It reads: "Say no to Internet censorship. Well done, Google."
Freedom on the Net, Freedom House's analysis of global internet freedom, finds that Chinaˇ¦s internet environment "remains one of the most controlled in the world." Chinese Government controls include sophisticated surveillance of dissidents' online activities. The most recent cyber attacks confirm a long-suspected belief that NGOs and human rights activists in China are being directly targeted.
"Google's decision to end its filtering activities was the right thing to do and we hope that other companies follow suit and refrain from being complicit in the repressive activities of the Chinese government," said Daniel Calingaert, deputy director of programs at Freedom House. "And we look to Secretary of State Hillary Clinton, in her upcoming speech on internet freedom, to outline a strategy to address the entire system of internet control in China and the global threat to free expression online."
"No country can compete in this respect with China, which -- despite its waxing economic and military prowess -- behaves as if it were under siege by its own citizens," the report said.
China's growing economic influence abroad helped repressive countries by providing investment free of the conditions often imposed by the West, the report's lead researcher said.
"As long as China can get strategic minerals or some kind of economic gain, they will invest in those countries," said Arch Puddington, director of research for Freedom House.
"It's a problem, especially in Africa. Some of these authoritarian countries have an option -- they don't have to carry out reforms that the United States or Europe might be demanding," he said.