Apple Inc.
said Wednesday it is independently investigating the steps that its supplier Hon Hai Precision Industry Co. is taking to address a recent spate of suicides at the Taiwan-based company's factory in southern China. "We are in direct contact with Foxconn senior management and we believe they are taking this matter very seriously," Apple said.
"We are saddened and upset by the recent suicides at Foxconn," the Apple statement said. "Apple is deeply committed to ensuring that conditions throughout our supply chain are safe and workers are treated with respect and dignity."
The statement by Apple is the first direct public acknowledgment of the suicides by a client of Hon Hai, which along with its subsidiaries and affiliates also goes by the trade name Foxconn.
Taiwan-listed Hon Hai, the world's largest electronics contract manufacturer by revenue, assembles products such as the iPhone and MacBook for Apple, as well as other gadgets and personal computers for a host of big brands including Dell Inc., Sony Corp., and Nokia Corp. The company employs more than 800,000 workers in China, more than half of them in Shenzhen.
Apple's comments come after the deaths of nine employees of the Shenzhen factory complex this year after falls from buildings. Most have been confirmed as suicides. The deaths have raised concerns about working conditions at the facility, although the company has defended its treatment of workers.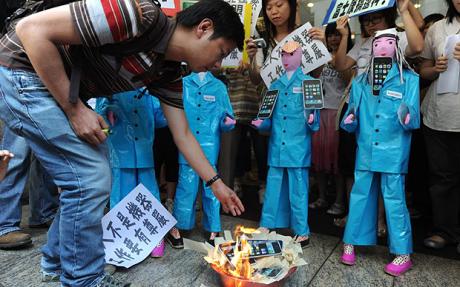 Protestors from SACOM (Students and Scholars Against Corporate Misbehaviour) burn effigies of Apple products during a demonstration near the offices of Foxconn in Hong Kong over the deaths of 11 workers.