Ninth Tibetan, a Nun, Immolates Herself in Anti-China Protest





EDWARD WONG New York Times October 17, 2011
BEIJING ˇX A Tibetan nun killed herself Monday by setting herself on fire in a Tibetan town in western China while calling for religious freedom and the return of the Dalai Lama, the exiled Tibetan spiritual leader, according to a statement by an advocacy group based in London.

Tibetan nuns were arrested and harassed by Chinese paramilitary servicemen.
The nun, Tenzin Wangmo, 20, was the ninth Tibetan to commit self-immolation since March, the fifth of those to die, and the first Tibetan woman to kill herself in this way, said the group, Free Tibet. The self-immolations have all taken place in restive Tibetan areas of Sichuan Province. All the previous acts involved monks or former monks; the most recent one took place on Saturday, when a 19-year-old former monk from Kirti Monastery set himself on fire but lived.
Kirti is in the town of Aba, known as Ngaba in Tibetan, and is the focal point of a long-running repression by Chinese security forces. Kirti was involved in the widespread Tibetan uprising of 2008, and security around the monastery has tightened considerably since then. Seven of the eight monks who committed self-immolation this year came from Kirti.
Tenzinˇ¦s nunnery, called Dechen Chokorling, was just three kilometers outside Aba and near Kirti. Tenzin set herself on fire outside the nunnery around 1 p.m. on Monday, said the report by Free Tibet, which advocates for Tibetan independence and has functioned as an outlet for people inside the Tibetan areas to report news.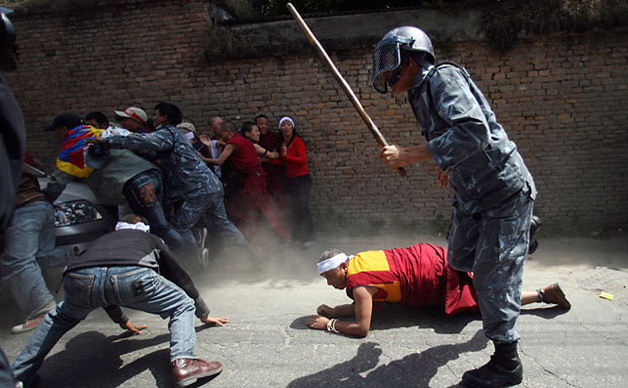 Tibetan monks were beaten by Chinese paramilitary servicemen.
ˇ§The acts of self-immolation are not taking place in isolation, protests have been reported in the surrounding region and calls for wider protests are growing,ˇ¨ said Stephanie Brigden, director of Free Tibet.
The group also reported that two Tibetans were shot and wounded by security forces during a protest on Sunday outside a police station in the town of Kege, known in Tibetan as Khekor. The town is located in the prefecture of Ganzi, or Kandze in Tibetan. A 29-year-old monk in Ganzi killed himself in August by setting himself on fire.
Free Tibet identified the two Tibetans wounded on Sunday as Dawa and Druklo. One was shot in the leg and the other in the torso, though it is unclear who suffered what injury. It is also unclear why security forces opened fire. The condition of the two Tibetans was unknown early Tuesday morning.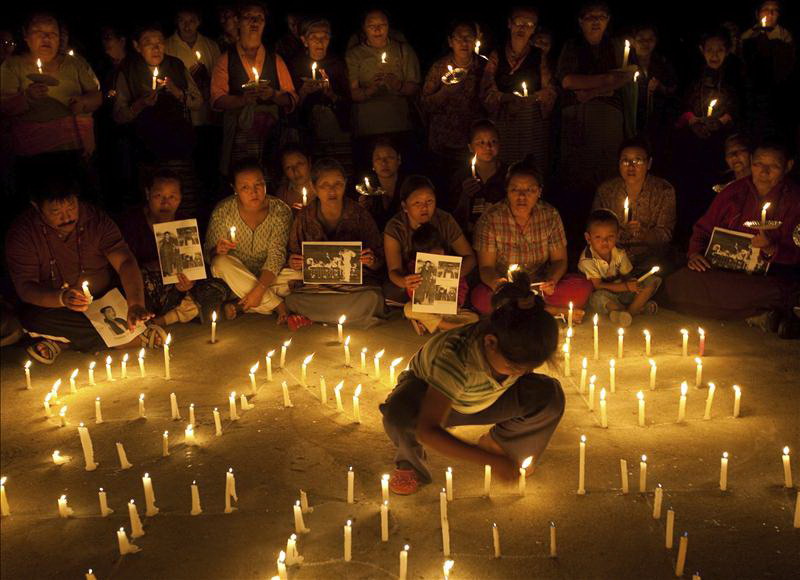 Tibetans hold a candlelight vigil to pay respect to the self-immolated Tibetans monks and nun.
ˇ@
Dalai Lama prays for Tibetans who self-immolated
By ANGUS McDONALD Associated Press October 19, 2011
DHARMSALA, India ˇX The Dalai Lama fasted and led prayers Wednesday to honor nine Tibetans who set themselves on fire in protest against Chinese rule, while Beijing criticized the Tibetan spiritual leader's support as inciting "terrorism in disguise."
The 90-minute-long service at the Dalai Lama's Tsuglakhang Temple, in the northern Indian town where he lives in exile, focused on the monks, former monks and a nun who have self-immolated since March in a restive Tibetan area of western China that has been under martial law-type police controls.
Aged in their late teens and twenties, at least five died of their injuries, while the condition of the other four is not known.
At the service, the Dalai Lama led rhythmic prayers for the dead and suffering as Tibetans tended butter lamps. The newly elected prime minister of the Tibetan government-in-exile, Lobsang Sangay, urged China to stop its tight controls on religion in Tibet and called on the United Nations to send fact-finding teams to the Himalayan region.

The Dalai Lama prays during a day-long fast and prayer service in honor of Tibetans who set themselves on fire to protest the Chinese rule in Tibet, at Tsuglagkhang Temple in McLeod Ganj
"We would like to appeal to the Chinese government to immediately stop its repressive policies in Tibet, and to resolve the issue of Tibet through peaceful means," Sangay said.
The commemorations underscored how the immolations served to draw attention to the situation in Aba, a Tibetan community which has been a flashpoint for Tibetan unrest. Chinese troops fired on protesting Tibetans in 2008. Since then the area has resembled an armed encampment with riot squads, checkpoints and purges of monasteries ˇX measures the Tibetans who set themselves on fire were protesting.
In Beijing, the Chinese Foreign Ministry condemned the immolations anew Wednesday but directed special criticism at the Dalai Lama and the prayer services, saying that such support would be an incitement akin to terrorism.
"In the wake of the incidents, overseas Tibet independence forces and the Dalai Lama group did not criticize the cases but on the contrary glorified such cases and incited more people to follow suit," the spokeswoman, Jiang Yu, said at a daily news briefing. "As we know, such splittist activity at the cost of human life is violence and terrorism in disguise."
The lashing out at exiled Tibetans was typical for the Chinese government, which accuses the Dalai Lama of encouraging separatism but rarely acknowledges how its policies may be contributing to unrest.
"Anything they don't like in Tibet is somehow stirred up by the Dalai Lama, and in a sense they seem to not want to take any responsibility for what appear to be spontaneous expressions of deep concern by these young people," said Michael Davis, a law professor at Hong Kong University who writes about Tibet.
Human Rights Watch has said that tightened security has led to a six-fold increase in spending on police, prisons and other parts of the public security apparatus in Aba has risen six-fold since 2002.
In attempts to rein in a Buddhist clergy seen as supportive of Tibetan independence, Beijing has put limits on the numbers of monks and nuns and forced clerics to denounce the Dalai Lama. The attack on religion, a central feature of Tibetan life, makes Tibetans more uneasy at a time that members of the Han Chinese majority are migrating to the region in greater numbers.
Besides the Dalai Lama, many other senior Tibetan clerics fled Chinese rule, establishing monasteries and schools in exile that retain links to the communities they once presided over. Also attending Wednesday's prayer services was Kirti Rinpoche, the exiled head of the Kirti monastery, which has been at the center of troubles in Aba.
In recent days, he has given implied approval of the immolations, saying that sacrificing one's life to defend one's Buddhist beliefs is not considered violent.
"Throughout your successive rebirths, never relax your vigilance in upholding the truth of the Buddha's excellent teaching for a single moment, even at the cost of your own life," Kirti Rinpoche said, citing a Buddhist master, in remarks released by the International Campaign for Tibet, a Washington-based lobbying group.
Simmering troubles at Kirti monastery boiled anew in March when a 21-year-old monk, Phuntsog, set himself on fire on a main street. Authorities imposed a lock-down and launched new indoctrination campaigns on the monastery, causing large numbers of monks to leave, some on their own and others forcibly, according to accounts by exiled Tibetans and support groups.
An anonymous letter from an exiled Tibetan from Aba, also known as Ngaba, and released by the International Campaign said that more than 100 monks and other locals have disappeared and that the immolations were a response to the repressive conditions.
"In short, the occurrence of suicide as protest in Ngaba is because many people there cannot see how to go on living," the letter said. "To have to relinquish our ethnic-national identity and culture is to relinquish the point of living for Tibetans, so the present repressive and punitive policies are literally tearing out the hearts of the Ngaba people."
Associated Press writers Gillian Wong and Alexa Olesen in Beijing contributed to this report.