Hot talk swirls on 'occupy Central' idea
February 25, 2013
Eddie Luk The Standard
An "occupy Central" campaign would be a final effort to press Beijing to give full universal suffrage rights to Hong Kong, Civic Party lawmakers say.
The legislators were responding to Benny Tai Yiu-ting, a University of Hong Kong associate law professor. He sees at least 10,000 citizens mobilized to take over Central in July 2014 if plans for universal suffrage in the 2017 chief executive and 2020 legislative elections have not been firmed up by then.
Tai raised the idea again yesterday at a forum in Mong Kok organized by democracy campaigners, when he also argued that prospective occupiers would have to pledge to follow no-violence lines.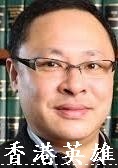 Law Professor Benny Tai Yiu-ting
Civic Party lawmaker Kwok Ka-ki said he saw the ideas as "the last resort" to pressure Beijing and the SAR administration to introduce universal suffrage in the two elections. "If Beijing breaks its promise of universal suffrage," he added, "we will have no option but to launch such a civil disobedience movement."
Over at the City Forum in Victoria Park, Civic Party leader and legislator Alan Leong Kah-kit said that if the move to votes for all was not introduced then an occupy Central movement would likely take shape.
"I have known Professor Tai for many years and he is a rational academic," Leong remarked. But he also said an "occupy" move would be a last resort.
"Actually, we don't want to see such movement," he said, but people would join rallies to express their strong aspirations for universal suffrage.
Leong also said that Zhang Xiaoming, director of the liaison office here, should not rely on one-sided opinions when reporting to Beijing on the SAR.
On the other side, Cheung Kwok-kwan, vice chairman of the pro-Beijing Democratic Alliance for the Betterment and Progress of Hong Kong, saw "a radical move" in any thoughts of occupying Central.
He asked: "Can Hong Kong afford the negative impact of people staging a rally to occupy and even paralyze Central for a universal suffrage model?" In fact, he said, it was "a mainstream idea" in the SAR not to resort to radical means to fight for democracy.