Disputed June 4 vigil slogan dropped
The organisers of the annual June 4 candlelight vigil in Hong Kong have decided to drop a controversial slogan which promotes patriotism.
The Hong Kong Alliance in Support of Patriotic Democratic Movements in China will now opt for a theme of "never giving up on the vindication of the June 4 incident", RTHK reports.
This comes after Ding Zilin of the Tiananmen Mothers group, and some local activists criticised the original slogan for not only promoting love of the country, but also the communist party.
The emphasis of this year's June 4 night vigil - "Love the country, love the people" - has sparked a row between Hong Kong's veteran democrats and pro-autonomy activists, with the latter claiming that whether the mainland is democratic or not is irrelevant to Hong Kong people.
The annual event, held by the Hong Kong Alliance in Support of Patriotic Democratic Movements of China, has kept the 1989 Tiananmen crackdown in Beijing fresh in Hongkongers' memories for more than 20 years.
Thousands of Hongkongers have attended the vigil for years, calling for vindication for those who died in the crackdown, an end to the country's one-party rule, and for a democratic China. But this year, the focus on the first part of the event's slogan - "Love the country, love the people; Hong Kong spirit" - has overshadowed the rest of the message, which reads: "Vindication of June 4; never give up".
Pro-autonomy activists - led by Dr Horace Chin Wan-kan who published a book two years ago advocating a "city-state" status for Hong Kong - have slammed the alliance for linking patriotism to the notion of a Hong Kong spirit.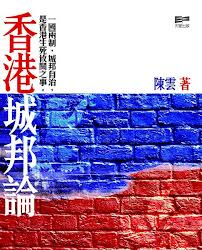 City-State Status for Hong Kong, written by Dr Horace Chin Wan-kan
Appealing online for Hongkongers to boycott the vigil, they insist that the mainland's political system is irrelevant to the city's democratic movement, and that vindication would only "legitimise" Communist Party rule.
"The June 4 crackdown is still a fresh memory for many Hong Kong people," said former lawmaker and core member of the alliance Cheung Man-kwong yesterday. "How can we say it is irrelevant to us? This is no different from erasing the history of Japan's invasion of China."
He said the slogan, which had been used since 1989, was used again this year for continuity and to bring the same message to the public. What they meant by patriotism was "completely different" from what the Communist Party advocated, he said.
About 1,600 people joined the protest yesterday afternoon, marching from Victoria Park to the government offices at Tamar.




1,600 people joined the protest yesterday